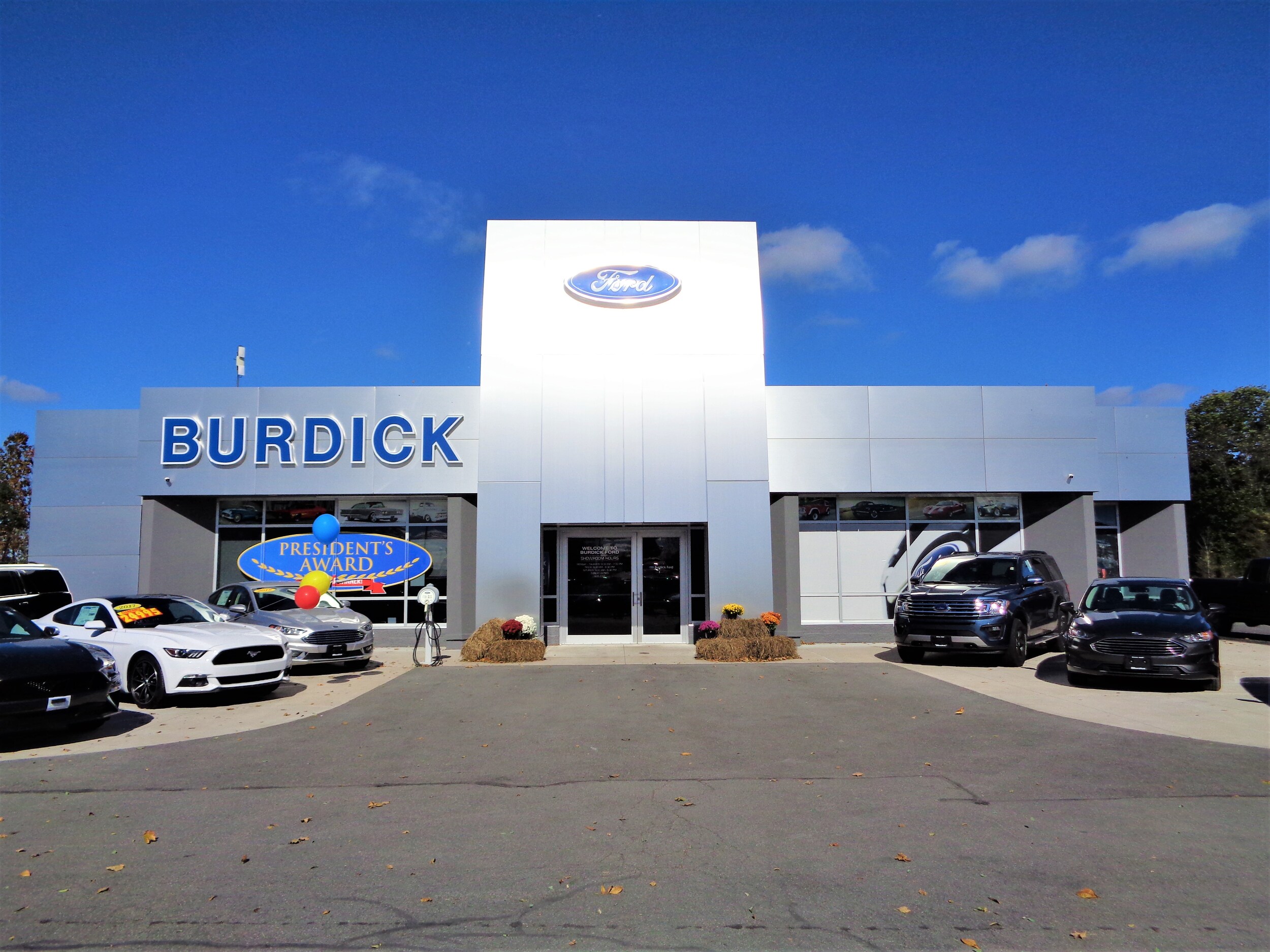 While the health and safety of our employees and customers is our number one priority, we are pleased to still be operating! Some of our sales staff is back in the building, and can be contacted at anytime via phone or email. Our showroom is now open for your convenience by APPOINTMENT ONLY. Our Service, Parts, and Collision Departments are still open and are taking the best precautionary measures to ensure the safety of everyone. Come and see us, or give us a call... we will take care of your needs!
Welcome to Burdick Ford of Central Square, NY!
Our passion is providing you with a world-class ownership experience. We share the thrill our customers get from owning and driving a Ford vehicle. Whether you come in for a new or pre-owned Ford, to have your vehicle serviced or to arrange financing, we are committed to providing a Ford experience that keeps you coming back.
The Burdick Family Auto Dealership History
In 1937 Grant and Glenn Burdick opened a gas station on Route 11, North Syracuse and named it "Grant A. Burdick and Sons". Thus began the Burdick family business, which now reaches to the fourth generation.
By 1943, Glenn, one of the sons, was buying and selling cars at his father's location. After World War II, he suggested moving the sales business to a separate site. Two additional lots were then purchased on Route 11. By 1950, "Glenn's Sales and Service" had added Kaiser Frazier and the Packard to the list of automobiles that were sold. In 1954, a partnership was begun between the Dunn family and Glenn Burdick. When that partnership was dissolved, Glenn obtained the Rambler franchise from American Motors.
Dave Burdick grew up in the automobile business, always working with his father, Glenn. Having that entrepreneurial spirit, however, he tried his hand at a sports equipment store. But David's heart was really in the buying and selling of automobiles. In 1974, he obtained the Toyota franchise and the rest is history. Kevin and Kelly, David's son and daughter, then too grew up in the automobile business. Like father and grandfather, their desire to succeed and hard work ethic has developed into the third generation of Burdick auto dealers. From these humble beginnings, David's, Kevin's and Kelly's dealerships have grown to more than 100 employees. The franchises now include: Toyota, BMW, Lexus and Ford. Growth, prosperity and success have marked the passing of time, as surely as have hard work, hardship and dedication. Much has changed, and much has stayed the same. Then, as now, recognizing the value and importance of each customer and employee makes the difference.